R

anch guests are housed in one of four aspen log cabins. Each cabin has a private bath (some with claw-footed tubs), front porch and wood burning stove.



There are no telephones or televisions in the cabins, a refreshing change for those seeking a bit of solitude.

Breakfast and dinner are served in the lodge dining room. Lunches are packed daily for trail and stream-side picnics. Each week's menu offers a variety of flavorful, well presented dishes including freshly baked breads.

The atmosphere at Los Pinos Guest Ranch is that of being a guest at a private country house. The front porch of the lodge is a gathering place for guests and a good spot for reading or afternoon tea; the main sitting room provides a place for fireside conversation on cool evenings. Many books on nature and local history are available in the family's library.




Open From June 1 through
September 30.
We look forward to seeing you!
The snows are melting;
wildflowers will soon be blooming;
The tranquil mountains and
streams of the Pecos high country
are waiting to welcome you ...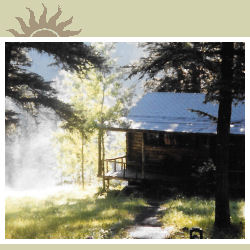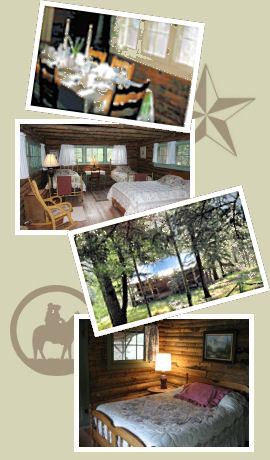 Please feel free to call or email us
for reservations:
- Alice -
505-757-6213
Alice@LosPinosRanch.com